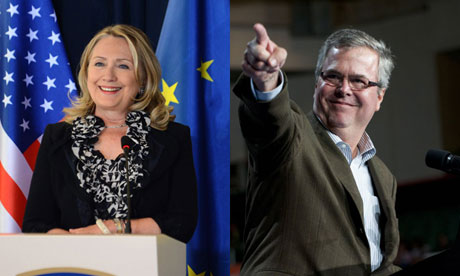 Woody'z heard lots of rumbling about how the GOPhukkks chances in '14 and '16 are diminsihed by their record of arrant asswholery.
I think the "left" is delusional to think that Murka's lumpen-proles and yokels won't eagerly and vigorously support a "return to normalcy" after the ("failed") experiment with the sochulist/muslim/kenyan/anti-christ.
"Way trodd thet, an' see whar it got us?"
Prez Lowbar, by 2016, very likely will have become the most reviled man in Murka, just because it makes such good press. But it will also be central to the GOPhukkks 'electoral/propaganda" strategy. For the NEXT 20 years!
The same energy that elected PrezLowbar over Bombin' Johnny McCain--visceral disgust with his predecessor--will obtain in the selection of the NEXT guy, too.
Bush V. Clinton
is just tooooo perfect an elaborate, oligarchic, practical joke on the country, the people, and the State. I do NOT think the Owners will be able to resist rubbing ALL our prolish, yokelish noses in THEIR shit...
Yer ol' perfesser is pretty sure that:
By the time Prez Lowbar's tenure is run, the temperature and temper of the "people" will be so "juiced" by all the coded insinuation and innuendo and racial propaganda, that the electorate will GLADLY, and HAPPILY, and JOYOUSLY install whatsoever conservative, Christian, right-wing Republican, straight, white American male that the Owners name.
It could be a Bush, or a Nixon; it wouldn't matter.
Just like
Obama v. the Bushevik
legacy, the good folks of Middull Murka will flock to the "other guy," "Not-Barry," in 2016, whosoever that may be, and whether or not he's a "real fascist."